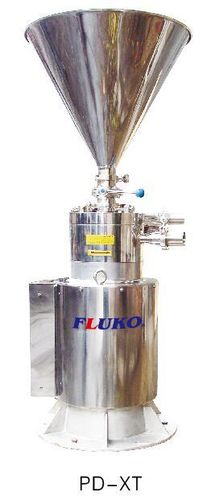 Powder Mixer Machine
Product Description
We have earned our name as a renowned manufacturer and supplier of Powder Mixer Machine. It can be used at higher temperatures and with higher viscosity mixes, offering the advantages of high shear mixing to a wide range of applications. We use optimum quality materials and components to manufacture this machine. It is suitable for higher concentrations of gums and thickeners. Powder Mixer Machine is used in flour mills, sugar mills and pharmaceutical industry. Clients can avail our machine in different specifications as per their requirements.
Our offered
Powder Mixer Machine
is widely used for the easy flowing and non-viscous material for being used in the food, pharmaceutical and agricultural industries. Because of its plenty of features such as compact design, light weight and easy operations, the mentioned mixer is the perfect mixer to be used in the laboratories, as well. Powder Mixer Machine has been engineered using stainless steel to render durability and reliability. It is also equipped with the functions like programming control to set the timings for both reverse and forward rotations. Apart from this, the mentioned mixer finds usage to maintain the speed of rotation.
Key Points:
Before initializing the process, it should be ensured that the substances used are completely dry.
Available with safety system for terminating the rotation of mixer, when the cover is opened.
Container should not be filled more than the half of capacity.
Always use, after closing the safety cover.
Quick dosing:
Powder can be sucked very quickly with maximum speed of 200kg/min, and different kinds of powder can be dispersed quickly and evenly.
Quality enhancement:
In inline processes easily and uniformly dissolve CMC, xanthan gum and other gel products of high viscosity and expansibility.
Energy saving:
Powder can be dissolved in chilled water to preserve nutrient substances and avoid bacterial growth.
Sanitation design:
Convenient cleaning, CIP/SIP availability and compliance with international sanitation standards and regulations;
Process improvement:
Dust-free feeding, avoidance of expansive powder agglomeration and therefore no risk of lumping;
Cost saving:
The equipment can be integrated with modular systems, eliminating the need for multiple containers
pipelines, valves and agitators, and thus saving equipment investment and production cost.
Technical Details:
Model

Moter Power(kw)

Rotation Speed(rpm)

Flow Rate

Range(m3/h)

Max.Powder

Suction Rate(kg/min)

Inlet/Outlet

size

PD100-XT

11/14

1470/2900

0-12

3

DN50/DN50

PD120-XT

18.5/22

1470/2900

0-25

5

DN65/DN65

PD140-XT

26/30

1470/2900

0-35

15

DN80/DN80

PD165-XT

32/37

1470/2900

0-50

25

DN100/DN100

PD200-XT

37/45

1470/2900

0-65

35

DN120/DN120

PD300-XT

45/52

1470/2900

0-85

45

DN150/DN150
Contact Us
#21-22 No.300, Shunda Road, Jiading District, Shanghai, Shanghai, 201802, China
Phone :86-21-230993687