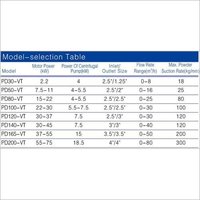 Powder And Liquid Mixing System
Product Description
Our offered Powder and Liquid Mixing System has been specially designed and engineered for efficient mixing and emulsification of liquid and powder within the minimum possible time frame. A vacuum is created in the working chamber due to the faster speed rotation of the rotor. This results in the power mixing to form a smooth stream of liquid without agglomeration. The high shear force rendered by the stator rotor system, helps in evenly distribution and mixing of powder and liquid. Powder & Liquid Mixers are an ideal choice for the processing and efficient mixing by preventing the formation of lumps in the internal of pipes and containers.

Why Opt For Our Offered Liquid-Powder Mixing System?

Bulletined below are the pros of using the offered:

Structure renders CIP/SIP availability for easy cleaning and proper sanitation.
Does not require any additional pump, as homogenizer plays the role of pump
Inner surface is mirror polished and the vacuum mixer can be easily cleaned
Available with multi mixing impeller for upper, lower and down type
Advantage
Quick dosing:
Powder can be sucked very quickly with maximum speed of 200kg/min, and different kinds of powder can be dispersed quickly and evenly.

Quality enhancement:
In inline processes easily and uniformly dissolve CMC, xanthan gum and other gel products of high viscosity and expansibility.

Energy saving:
Powder can be dissolved in chilled water to preserve nutrient substances and avoid bacterial growth.

Sanitation design:
Convenient cleaning, CIP/SIP availability and compliance with international sanitation standards and regulations;

Process improvement:
Dust-free feeding, avoidance of expansive powder agglomeration and therefore no risk of lumping;

Cost saving:
The equipment can be integrated with modular systems, eliminating the need for multiple containers, pipelines, valves and agitators, and thus saving equipment investment and production
Technical Details:
Model

Moter Power(kw)

Power of

Centrifugal Pump (kw)

Inlet/Outlet size

Flow Rate

Range(m3/h)

Max.Powder

Suction Rate(kg/min)

PD30-VT

2.2

4

2.5''/1.5''

0-8

18

PD50-VT

7.5-11

4-5.5

2.5''/2''

0-16

25

PD80-VT

15-22

4-5.5

2.5''/2.5''

0-25

80

PD100-VT

22-30

5.5-7.5

2.5''/2.5''

0-30

100

PD120-VT

30-37

7.5

2.5''/3''

0-30

120

PD140-VT

30-45

7.5

3''/3''

0-40

120

PD165-VT

37-55

15

3.5''/3.5''

0-50

200

PD200-VT

55-75

18.5

4''/4''

0-80

300
Contact Us
#21-22 No.300, Shunda Road, Jiading District, Shanghai, Shanghai, 201802, China
Phone :86-21-230993687