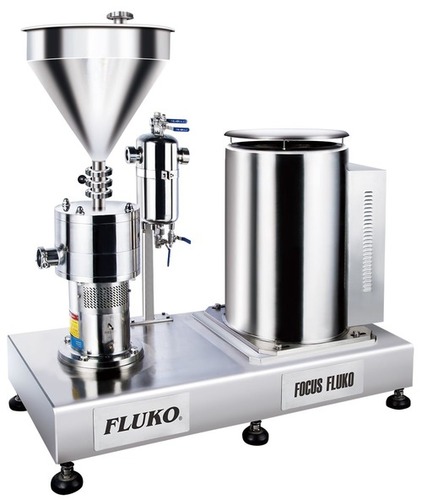 Powder and Liquid Mixer
Product Specifications
Inline

40 Cubic Meter (m3)
Product Description
We have become a dominant player in the market of manufacturing and supplying Powder and Liquid Mixer. It is a high shear system for rapid incorporation of a wide range of powders, including problematic gums and thickeners. To manufacture this mixer, we use optimum quality materials and components. It can handle a wide range of viscosities, from low viscosity products through to viscous gels. We offer this Powder and Liquid Mixer at market leading prices to clients.

The modular design of our offered Powder and Liquid Mixer helps in eliminating the requirement of multiple pipelines, agitators, containers and valves that results in saving cost of the production and investment. Apart from this, the mentioned mixer also helps in avoiding the development of bacterial growth by preserving the nutritional substances, which results in saving of energy. It is useful for evenly and quickly mixing of variety of powders at the offered speed of 200kg/ minute. Liquid and Powder Mixer reduces the avoiding of agglomeration of expansive powder without any risk of lumping. Moreover, it is capable of dissolving CMC and various other gel products having high viscosity.

Applications

Chemical industry: coating for semi-conductor, hydration reagent, special paints, stabilizer and various other raw material for coating
Pharmaceuticals: solvents that easily dissolve in water, ointments and creams
Food Industry: spices, mayonnaise, ketchup,sauces and many more.
Features:
Quick dosing
Easy to use
Optimum performance

Quick dosing:
Powder can be sucked very quickly with maximum speed of 200kg/min, and different kinds of powder can be dispersed quickly and evenly.

Quality enhancement:
In inline processes easily and uniformly dissolve CMC, xanthan gum and other gel products of high viscosity and expansibility.

Energy saving:
Powder can be dissolved in chilled water to preserve nutrient substances and avoid bacterial growth.

Sanitation design:
Convenient cleaning, CIP/SIP availability and compliance with international sanitation standards and regulations;

Process improvement:
Dust-free feeding, avoidance of expansive powder agglomeration and therefore no risk of lumping;

Cost saving:
The equipment can be integrated with modular systems, eliminating the need for multiple containers, pipelines, valves and agitators, and thus saving equipment investment and production cost.
Model

Moter Power(kw)

Rotation Speed(rpm)

Flow Rate

Range(m3/h)

Max.Powder

Suction Rate(kg/min)

Inlet/Outlet

size

PDH 100-XT

3

2900

7

2

DN20/DN20

PDH 120-XT

4

2900

10

4

DN25/DN25

PDH 140-XT

7.5

2900

15

6

DN32/DN32

PDH 165-XT

11

2900

20

6

DN40/DN40

PDH 180-XT

18.5

2900

25

6

DN50/DN50

PDH 200-XT

22

2900

32

8

DN65/DN65

PDH 210-XT

30

2900

40

10

DN65/DN65
Trade Information
Telegraphic Transfer (T/T)

Middle East, Australia, Asia
Contact Us
#21-22 No.300, Shunda Road, Jiading District, Shanghai, Shanghai, 201802, China
Phone :86-21-230993687