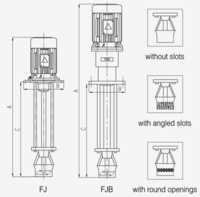 Liquid Jet Mixers
Product Description
Liquid Jet Mixers

We are engaged in manufacturing, exporting and supplying excellent quality Liquid Jet Mixersin Shanghai. When simple mixing is not sufficient, and high shear force generated by stator/rotor system is too strong, the Jetmixer will be the best choice. It exerts powerful macro and micro mixing effects, and meanwhile disperses materials to the full, without assistance from extra high shear equipment. The Jetmixer provides ideal dispersing and mixing energy and can meet requirements of different processes. The operation is quite easy.
Liquid Jet Mixers are an ideal choice for the applications where generation of high shear force has taken place and the basic mixing in insufficient. The mentioned mixers help in exerting powerful effects for macro and micro mixing and also dispersing the material to the full without obtaining any assistance from the high shear equipment.

Working principle of Liquid Jet Mixers

The installed rotor rotates at higher speed for driving the liquid stream in combination with the effect of flow guide chamber. This is done for ensuring the powerful circulations of the liquid within the tank. High speed rotation also ensures the production of shear turbulence that is later required by the micro mixing. In the next stage, dispersion of stream in each of the corner of tank is carried out by the micro processed liquid.

Applications

Mixing and depolymerizing of nano-materials and light powder
Dissolving sugar
Powder dissolving
Gel resolving
Particle suspending
Reaction accelerating
Dispersing
Working principle
A liquid stream driven by the high speed rotation of rotor, combined with flow guide chamber effect, ensure strong liquid circulations in the whole tank. On the other hand, high speed rotation of rotor can also produce some shear turbulence required by micro mixing, and the micro processed liquid will then dispersed with the whole stream to every corner of the tank. Different from conventional agitators, Jetmixer can fully disperse and mix all liquids in tank without dead corners.
Contact Us
#21-22 No.300, Shunda Road, Jiading District, Shanghai, Shanghai, 201802, China
Phone :86-21-230993687