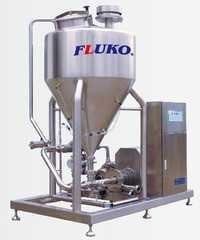 Automatic Liquid Mixer
Product Description
We take immense pleasure to introduce ourselves as a trusted manufacturer and supplier of Automatic Liquid Mixer. It is a automatic mixture system, keeps the dynamic balance of the system and maintains powder and liquid mixing process. We manufacture this mixer under the guidance of expert supervisors using best quality materials and components. It can accomplish large number of continuous mixing material, and has an excellent stability of batch high production efficiency. Automatic Liquid Mixer is used in food, sugar, wheat and milk processing sectors.
Features:
Robust construction
Easy installation

Longer service life


Advantage
Powder / liquid inlet ratio
Large quantity powder / liquid mixture
Stable batch quality
Full automatic control
Reliable in-site cleaning
System Parameter
Flow rate : 10~20m3/h
Powder sucking rate: 200~350kg/min(Whey powder), 180~300kg/min(Sugar 60~120kg/min(CMC)
Applications: Milk powder, CMC powder, Whey powder, Sugar, Cereal flour, Tio2, Titanium Dioxide, Bentonite, Nano Materials and so on.
Contact Us
#21-22 No.300, Shunda Road, Jiading District, Shanghai, Shanghai, 201802, China
Phone :86-21-230993687